Maybe you've heard by now, Maryland's basketball team is sporting some new jersey's this season. The football team will be donning some new (well, once a season new) digi camo threads of their own. I just figured I'd do us all a favor and post pics of these glorious uniforms.

The uniform that got me the most excited were the alternate black basketball uniforms. I had to do a double take initially to make sure I saw what I did. Thats right kids, 'Maryland' on the front is written in cursive. These jersey's have a real cool, old school kind of feel to them. Its as if they are trying to pay homage to the Terrapins of decades gone past. They also do a good job of incorporating the feel of the jerseys worn by the national championship team. The new jerseys now incorporate the black and gold piping on the shorts as well as the jerseys and the M flag logo is more prominent on the shorts. According to Under Armour's facebook page:
Maryland will be playing in 4 different colors this season. We also added even more advantages into the unis this year: The uniform is 33% lighter, has 360-degree stretch, a fully ventilated back, shooter's notch at the shoulder for better range of motion, along with incredible moisture management and temperature regulation.
On top of that, each jersey has a yellow star on the back, just below the collar behind the neck. A very nice touch.
On the football front, the Terps will once again be wearing black uniforms with digi camo in support of Under Armour's Wounded Warrior project. Last year South Carolina wore these jersey's as well. This year it will be Utah as well as Texas Tech joining Under Armour's flag ship, the University of Maryland. These uni's are full of digi camo all the way down to the cleats! The only thing missing is some gloves with the Maryland flag on the palms for when the Terps score a touchdown and want to throw up the dynasty sign. Check out more pictures after the break.
Maryland's state flag-inspired uniforms caused a storm on Twitter and in
Maryland Football Uniforms Are Genius
Maryland displayed these beauties recently
Heinous Maryland uniforms prove it's more about business than tradition
Maryland's Uniforms Failed the Eye Test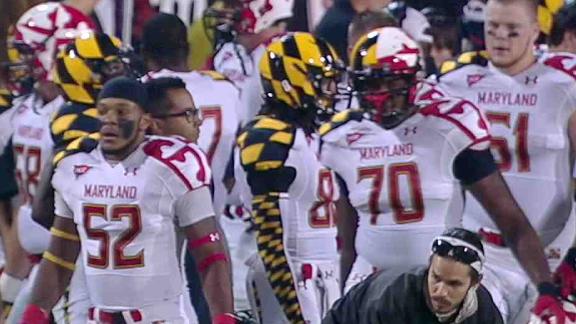 Maryland Uniforms Awesome Or Ugly?
Maryland's Uniforms Are Ugliest in College Football, Hands Down
go so far as to say Maryland's uniforms are ugly,
Maryland Uniforms Draws Lots
Maryland Terrapins Uniforms are Brilliant